LATEST SNIPPET
Anna will be the sixth woman over the wall at the 2010 Indy 500, assuming the 5 racers qualify.
Anna started in go-karts and then did the Skip Barber Racing School. Follow-up, Anna worked with the racing school before joining a race crew leading to her work with Team Australia where she worked over-the-wall during the races.

Interview
Anna Sixth Woman Over the Wall at the 2010 Indy 500
Photo Gallery
Related Issue: Women Racers Directory, Women in Racing, Women Racers, More Women in Racing, Race Schedules, Notable Women

---
GC: Where did you get started in racing?

Anna: My dad. He was a motorcycle racer and I had a bunch of sisters, no brothers.** I got into go-kart racing. He wasn't too gung-ho about it at first but he came around.

Later, I went to Russell Racing School. And after that I worked for Skip Barber and Champ Cars Then I joined Team Australia. I do the work on the gear box and on Sunday I'll do pit stops.

GC: So, you're over the wall.

Anna: Yep. I jack the car up

GC: What advice would you give to girls wanting to explore the area of racing?

Anna: I guess just get down and do it. You might have to work a little harder than the next person but do it. That's the way I see it. And now, very rarely do I run into any problems from guys. The guys I work with here are a great bunch of guys. I wouldn't trade them for the world. It does make a difference. I have worked with some people who are not.

Note: The interview was conducted during a race so much of it was lost to the cars in the background. We hope to add to this interview at a future race and clarify the following information we received from Tim Bradshaw.

** Hi.. my name is Tim Bradshaw. I am Anna Chatten's big brother (same mom, different dad). I am 16 years older than Anna. When she was a toddler, I left to serve in the Navy. She says she has a "bunch of sisters" and no brothers. I do consider myself to be her big brother... I wasn't there when she was growing up.. so maybe that is how the website has misquoted her. Thanks for the website!!!!! Tim Bradshaw , E-Mail.


Anna Sixth Woman Over the Wall at the 2010 Indy 500

---
Girl power is the name of the game, or in this case the race.

There are a record five female drivers entered in the Indianapolis 500, and a handful of women work behind the scenes for teams and manufacturers in the IZOD IndyCar Series.

Anna Chatten, a gearbox technician for KV Racing Technology, is one with occasionally greasy hands.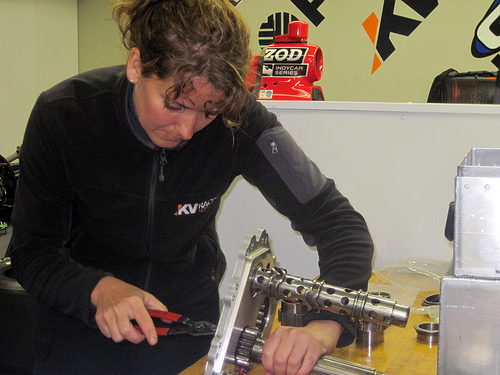 On May 30, she'll also have the honor of being the second female as part of an over-the-wall crew in the Indianapolis 500. She's the airjack operator for the No. 32 car driven by Mario Moraes. The first woman to work over the wall was Anita Millican, who held the vent hose for driver Larry Dickson in the 1981 and 1982 Indianapolis 500 Mile Races.
Chatten, of Peoria, Ill., relayed that she entered this male-dominated sport mainly due to her father's influence.
"When I was a little girl, he went go-cart racing and I'm sure my mom said take her with you because she's in my way for the day," Chatten said as she assembled the multitude of parts into a gearbox for Paul Tracy's car. "I saw all the little boys doing it and I thought, 'Well, that looks fun. I'd like to try it.'
"When I turned 18 I realized I wanted to have a job I liked so I decided to give this a shot. I went to a mechanic school in northern California, spent two years doing that and worked my way up through the ranks."
I thought being one of the few women to work in such a challenging and demanding environment was inspiring, but Chatten said: "I've been here 10 years, I don't really think too much on it. I've never done anything but this. But I don't think I'd be happy doing anything else."
Source: blog.indycar.com/2010/05/20/girl-power/#more-399

Over the Wall - 2006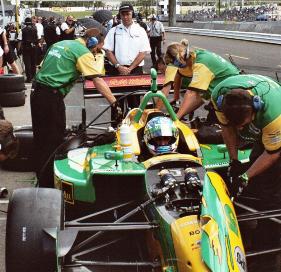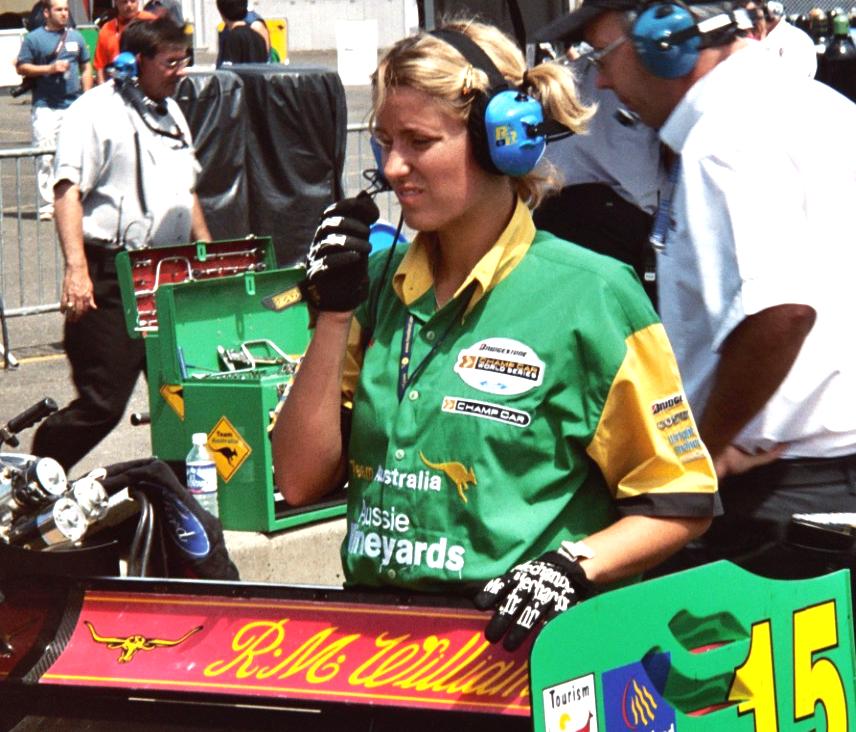 Photos: Grand Prix of Portland, June 17-18, 2006. Gordon Clay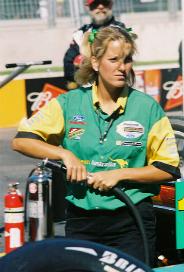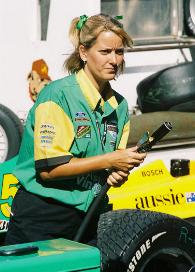 Photos: Streets of San Jose, July 28-30, 2006. Gordon Clay

---
WomenInRacing.org | Contact Us
©1996-2023 by Gordon Clay