LATEST SNIPPET
RACER Magazine announced Courtney Force as their 2012 Rookie of the Year. 1st time an NHRA driver has ever won this award.
Direct shortcut to this page: http://bit.ly/xUTjie
2:04

5:51

9:35

4:11

1:42

1:42

21:18

Twitter

John Force: "Nothing could prepare me for having daughters."

Meet Courtney's Traxxas Team!

12:53

Sisters Act
Related Issues: Ashley, Brittany, Driving Force, Women Racers Directory, Women in Racing, Women Racers, More Women in Racing, Race Schedules, Notable Women
Contact: www.courtneyforce.com/
---
Status: Single
Body type: 5' 8"
DOB: June 20, 1988
Home: Yorba Linda, CA
Zodiac Sign: Gemini
Occupation: Student/Winning Drag racer
Marital status: Single
Height/weight: 5'8", 118 lbs.
Hobbies: Going to the beach, hanging out with friends, working out at the gym
Attended Cal State Fullerton and majored in Communications

Courtney Force was a former cheerleader at Esperanza High School. She trained at the Frank Hawley's Drag Racing School and subsequently earned her driver's license after graduation. In addition, her current interests revolve around shopping, hanging out with friends and going to the races.

Ultimately, Courtney stars on the reality television show Driving Force. As John Force 's youngest daughter, she is expected to most likely follow his footsteps. But although she enjoys racing, she is not too fanatic about it.

Courtney Force - "I have grown up my whole life involved in the sport of drag racing ever since I was a baby. I loved being in the atmosphere and being able to be with my family and watch my dad race, dreaming of the day I would be able to get into a race car. I am currently attending Rancho Santiago College and hope to transfer to Cal State Fullerton, next semester. I have been racing my Brand Source Super Comp Dragster for 2 years now, and am planning on moving up to Top Alcohol Dragster next season with my older sister Brittany. We have been out testing these cars and are learning so much about them from good teachers, especially my older sister Ashley. I have always looked up to her, and have always wanted to follow in her path, because she has shown me that I am also capable of anything and can reach my goals someday too!

I love drag racing of course, and just being at the races with friends and family. When I'm not at the track, I'm usually at school or studying for my classes. However, when I do get time off, I love being in CA hanging out with my close friends and boyfriend. Also, I love being at the beach as much as possible, especially for bonfires. My other favorite things to do would have to be going to the gym, running, going to Lake Tahoe with my family, and eating. Music Rock and pop (but not so much a country fan)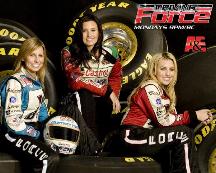 Courtney, Ashley, Brittany, the Force sisters

---
Courtney Force picks up her second career win, defeating Ron Capps at the NHRA Winternationals.
* * *
Courtney wins her first Wally at Seattle.
* * *
Rookie Funny Car driver, Courtney Force, youngest daughter of 15-time national Funny Car championn John Force, not only had a first-round win against her Dad at the Arizona Nationals, she surpassed her older sister Ashley by beating him in her second NHRA start while Ashley didn't beat him until her fifth start in 2007. When will third daughter Brittany get her shot?
* * *
Courtney Force (http://bit.ly/xUTjie) replaces sister Ashley Force Hood (http://bit.ly/cD7ipB) in the a Funny Car to run the full NHRA Full Throttle Series in 2012
* * *
A/Fuel dragster racer Courtney Force spent a lot of her time at Sonoma sitting in one of her dads Funny Cars getting used to the potential experience of becoming the third Force to race Funny Cars after Dad and sister Ashley. Follow her experience on Twitter.
* * *
July 19, 2009 is a momentous day for the Force family. On the same weekend Ashley Force Hood lost her number 1 standing in the Funny Car series, Courtney Force got her first Top Alcohol Dragster win. She beat out her sister Brittany in the semi-final heat where one of them was bound to win.

---
2012 Auto Club Rookie of the Year

---
In this age of uncertainty, when few people know what they want to do with their lives and fewer still seem happy with their choices, 24-year-old Courtney Force is a welcome anomaly.

When she first realized what she wanted to do for a living, the graduate of Cal State-Fullerton couldn't even spell "race car driver." Now, 19 years later, she is one – and a very good one.

The 2012 recipient of the Automobile Club of Southern California's Road to the Future Award as the NHRA Rookie of the Year, the driver of the Traxxas Ford Mustang approaches her second season with the same enthusiasm she did her first.

"I learned a lot in my rookie season and I know I have a strong team behind me especially with my crew chiefs Ron Douglas and Dan Hood. Plus, I have great teammates to lean on and provide insight so I'm just going to keep learning all I can and see where it takes me."

A national spokesperson for Ford Motor Company's Driving Skills for Life initiative, the youngest of drag racing icon John Force's four daughters wasted little time last year showing off her competitive skills.

"I always dreamed of racing against my dad," she said, "and it's just awesome to finally be out here and be part of the JFR team. I'm so thankful for the opportunity and the support of Traxxas and all my other sponsors.

A semifinalist in just her second race, the former high school cheerleader started from the front of the Funny Car field two times, took her black-and-red Mustang to four final rounds and claimed a breakthrough victory in the O'Reilly Northwest Nationals at Seattle, Wash., beating 2011 series champ Matt Hagan in the final.

Ultimately, she finished fifth in the driver standings, equaling the best ever showing for a Funny Car rookie.

Driving a Mustang capable of zero-to-320 mile per hour acceleration in little more than four seconds, she added a bit of surrealism to her season when she secured the Funny Car championship for Jack Beckman by beating Ron Capps in the semifinal round of the season finale at Pomona, Calif.

It was a nice payback to Beckman, the Dodge driver who, as an instructor at Frank Hawley's Drag Racing School, taught Courtney, her sisters and her mother Laurie the basics of drag racing while signing off on their Super Comp licenses.

Having earned the college degree upon which her mother's blessing was contingent, Courtney now is making the most of her opportunity to compete at drag racing's highest level.

Her preparation for a pro career included a six-year apprenticeship in Super Comp and Top Alcohol dragsters followed by private tutoring in sister Ashley Force Hood's informal "Drag Racing 101" class and a full season of testing in a Funny Car.

Nevertheless, there never was a question in her mind that she eventually would be in her present this position.

"I grew up knowing I wanted to be a race car driver," she said. "I just knew that's what I wanted to do. I always loved traveling to the races to watch my dad. We have pictures of me at the races in the winner's circle with a pacifier in my mouth.

"I'd draw pictures when I was a little girl of my dad, Don Prudhomme and their race cars," she said. "I'd draw them with all the sponsors' logos and make them look as real as possible. I'd always draw myself in the other lane racing my dad.

"It was probably when I was around five (that I knew what I wanted to do)," said the former high school cheerleader. "Ever since kindergarten, my dad would bring his Funny Car and trailer to my school and all the kids in my class would sit in his Castrol Funny Car and see what it was like. I knew I wanted to be just like my dad."

Obviously, she is on her way.

"I was somewhat of a tomboy when I was young and my best friend was a guy who was always taking things apart and putting them back together," Courtney said. "I hung around with him a lot because I thought that was really interesting. I actually wanted to race Jr. Dragsters, but my mom said she didn't want me racing at the expense of paying attention to school.

"I grew up going out to the racetrack whenever I could," she said. "I would help dad get into his driving suit and gloves and that helped me to learn what drag racing was all about."

Her racing aspirations began to fast track when she attended Frank Hawley's Drag Racing School.

"What was funny is that I was driving 160 mile-per-hour Super Comp Dragsters, but back home my folks wouldn't let me drive on the freeway," she laughed.

Like Ashley, who first leapt to prominence outside the race car when she won AOL Sports' inaugural "World's Hottest Athlete" contest (2007), Courtney similarly sped into the spotlight after being named "Top Agent" in the Fiesta Movement, a 2010 Ford marketing program in which 100 "agents" drove Ford Fiestas and then shared their experiences on various national social media platforms.

On the track, she also mimicked her sister's success by driving one of veteran Jerry Darien's race cars to a Top Alcohol Dragster victory in 2009 at Seattle, Wash., the site, ironically, of her first pro win, as well.

The similarities between her career path and her sister's are not coincidental.

"Ashley was a big influence on me wanting to race. I went to Cal State-Fullerton, which is where she went, and I got a degree similar to hers. She has a degree in Radio and Television; mine is in Communications. When I heard Ashley was going to start racing, I knew that's what I had always wanted to do so I said, 'I'll just copy everything she does.' I've really tried to follow in her footsteps."

Statuesque like her mother, Courtney was one of the stars of Driving Force, the real-life TV series that tracked Ashley's development as a Funny Car driver and aired for two seasons on A&E Network.

"My first full pass in a fuel Funny Car was the best feeling ever," Courtney enthused. "I knew at that point that I could do it. I felt the accomplishment of getting past the finish line. It didn't matter what my reaction time was or my elapsed time or speed. I got to the other end and I knew, 'I can build on that.'

"It's been a little overwhelming," she said of all the fan and media attention that began even before her debut. "I'm just excited to finally be able to race a Funny Car. I always dreamed of going 300 miles per hour and it's just awesome to finally be out here racing."

Like her dad, she has no interest in trying to master oval track or road racing.

"One cylinder on the BOSS 500 in my Traxxas Mustang equals the power in a whole NASCAR engine," she said. "The fact that I'm racing one of the fastest cars on the planet is something I wouldn't want to trade for another series.

"I don't want to miss out on the power of these 8,000 horsepower race cars. They go straight, but don't be fooled. Sometimes they do turn and my dad says that's when you learn to drive."
Source: www.courtneyforce.com/


Courtney Force wins Funny Car at Winternationals

---
Courtney Force raced to victory in Funny Car at the NHRA Winternationals. Force powered her Ford Mustang past Ron Capps' Dodge Charger with a pass of 4.025 seconds at 317.12 mph to claim her second career victory.
Source: espn.go.com/los-angeles/story/_/id/8957932/courtney-force-sets-personal-best-winning-funny-car
Courtney Force leads JFR at Winternationals

---
Courtney Force and her Traxxas Ford Mustang team were one of the top Funny Cars today in the first session of qualifying at the O'Reilly Auto Parts Winternationals at Auto Club Raceway.

In the eighth pair of Funny Cars, Force ran alongside Cruz Pedregon; both drivers with equally clean and straight passes to the finish line. The 24-year-old from Yorba Linda, Calif. posted a 4.071 ET at 311.49 mph, taking her to the No. 2 spot and pushing her hotrod to top speed of the day in the Funny Car category.

"Going to the No. 2 spot with a run like that and getting top speed is a great way to start the weekend. We're looking forward to tomorrow and seeing if we can push it a little further," said Force.

This is Force's sophomore year after a strong rookie season in 2012, winning Auto Club's Road to the Future Award for NHRA's top Rookie of the Year and achieving Full Throttle's Hardest Working Crew Award for the Funny Car category alongside her Traxxas Ford Mustang team.

"It was very nerve-racking going up there for the first race of my second season. I think I was more nervous this year starting out at Pomona than I was last year for my rookie season. I don't know how, but I was just so nervous getting up to the starting line. We've got a great team. I have great crew chiefs in Ron Douglas and Dan Hood. We showed in testing in West Palm that we have a good, fast race car," said Force.

Force had the quickest as well as the fastest Funny Car pass at pre-season testing in West Palm Beach, Fla., giving the team a feeling of confidence for 2013. Force's best pass of a 4.012 ET at 322 mph was also a personal career-best time and speed.

"I was eager. I felt like this off season took way too long. I was just ready to get back in the seat of my funny car. Getting that first lap out of the way felt amazing. I mean, it's such a load off your chest and it's always a plus to go to the top half of the field, so I'm very excited.

"It started to pull me to the outside a little bit so I even turned it off just a click early; it was just a hair, but it ended up being a great run. That shows us that we really have a good car and a great starting point to work with for the rest of the weekend," said Force.

Courtney Force's performance was the highlight of the day for John Force Racing. Prior to Force's run both John Force and Robert Hight smoked the tires in the left lane. Force ended the day with the 14th quickest pass, 6.626, behind the wheel of his Castrol GTX Ford Mustang and Hight's Auto Club Ford Mustang posted the 16th quickest run at 8.083 seconds. Neither of these times will carry over into the second day of qualifying on Friday.

The first foray into Top Fuel was derailed by a systemic failure of some kind in the brakes of the Castrol EDGE Top Fuel dragster. Rookie Brittany Force performed a textbook burnout but as she was applying the brakes she knew immediately that there was an issue.

"I have had a problem before with the brakes before. There have been times when I have been pulling on the brakes and the car hasn't stopped. That time was the worst instance. I was pulling on the brakes harder than I was in testing and I couldn't get the car stopped. That was the reason I did a longer burn out was because I was pulling on it and it kept pulling down track until I got it stopped. Rolling into stage I had a feeling I was going to roll the lights," said Force, an Automobile Club Road to the Future contender.

The dragster rolled through the staging lights effectively ending her run before it began due to an automatic disqualification.

"I really just wanted to get that first run out of the way and now I have to want a little longer."
Source: www.brittanyforce.com/
In the Force family, relationships are tricky

---
Courtney Force had just lost in the second round of Funny Car eliminations last Sunday at the National Hot Rod Association's Mac Tools U.S. Nationals in Indianapolis.

Force was furious with herself: A rookie who had won her first career race earlier in the season, she was the No. 1 qualifier at Indianapolis. But she but came up short in her race with Johnny Gray, spinning her tires toward the end of the run. Afterward, she walked to her mobile home on pit road, closed the door and stewed.

Soon, the door to the mobile home opened. In walked her father, NHRA legend John Force, who also happens to be her coach and team owner.

John Force immediately began to critique Courtney's performance, also reminding her there were perhaps 100 fans outside who wanted her autograph.

Courtney didn't want to hear any of it, especially not from her dad, a 15-time Funny Car champion who is also a mile-a-minute talker and the very definition of a Type A personality.

"He was having a hard time giving me a few minutes to relax," said Courtney. "I was mad at myself, but he wanted me to suck it up and get out there with the fans.

"We couldn't agree about anything at that moment."

Such are the vagaries of the complicated relationship that can sometimes exist between a father and daughter. Mix in the dynamics between teacher and pupil and employer and employee, and it really gets interesting.

Multiply all that by four – as Force does with his three other daughters, all of whom are also involved in the noisy, raucous sport of drag racing – and you've got one big, loving, happy (most of the time) family.

John and Courtney are both racing in this weekend's O'Reilly Nationals at zMax Dragway. Both are in the NHRA's Countdown to the Championship, Courtney the sixth seed and John at No. 8.

Add another element to the Force-Force relationship: Opponents. John and Courtney will face each other in Sunday's first round of Funny Car eliminations.

"Sometimes she doesn't listen to me," said John Force, 62. "If I ran it as a boss, we'd be fighting all the time. But as good as she is, I want perfection. I'm a pain to her. But it's more father-daughter: I want to make sure she doesn't fail."

Each of Force's four daughters plays an integral role in one of the dominant teams in drag racing. Adria Hight, 43, is the daughter of Force's first wife and chief financial officer of John Force Racing Inc. Ashley Force Hood, 29, is taking time off from her successful Funny Car career after the birth of her son Jacob in 2011. Brittany, 26, hopes to begin a Top Fuel Dragster career next in 2013.

At 24, Courtney is the youngest. She's the favorite to be the NHRA's rookie of the year (as Ashley was in 2007). Courtney has one victory – at Seattle – and has continued to perform well. That's why her second-round loss at Indianapolis was so disappointing to her.

And it's also why her demanding dad just wanted to help, however misguided his methods might have been.

"John can only see his side and he's like a bull in a china shop anyway," said his wife Laurie, who is Ashley, Brittany and Courtney's mom. "At Indianapolis, Courtney said, 'I don't want to talk about it, I just want to be by myself.' But he doesn't get that concept. He wants to dive right in and solve the problem and move on."

Although John Force understands he's dealing with his daughter, he thinks the clashes are mostly a matter of two competitors who are wired similarly.

That's why Ashley, whom Force said is more introverted, can seem to handle his coaching and cajoling better than Courtney.

Or maybe it just looks that way. Laurie Force said Ashley, who had four Funny Car victories before stepping away to have her baby, would sometimes cry after hearing from her father. But she kept her helmet on so he wouldn't see.

"Ashley is like her mother," said John Force. "She kills me with silence, which I hate because I can't get a rebuttal. (Courtney) stops and turns right to me and the --- hits the fan. I like that. At that moment we can learn."

John Force, sitting next to Courtney in the media room at zMax, turns to his daughter.

"It's really working between us, isn't it?" he asked.

Courtney indulges her father with a noncommittal smile.

Women have long been established in drag racing. Shirley Muldowney, for instance, is one of the sport's pioneers and all-time greats. Pro Stock car driver Erica Enders has won three times this season and Alexis DeJoria joined Courtney Force as a Funny Car rookie.

So John Force is happy his daughters haven't had to face scrutiny comparable to what, say, Danica Patrick has in NASCAR.

But boys will be boys, John Force said, and that's a major reason why he's so tough on his girls.

"If you can handle me, you can handle them," he said to Courtney on Friday. "If one of those guys gets out of his car and gets in your face, he can't break you down mentally. I can't either, anymore."

And things will only get tougher as the Countdown, which Courtney is experiencing as a rookie, continues.

"They've all been nice to her until the Countdown starts," John Force said of his daughter, first-round opponent Sunday (Courtney is 2-0 against her dad this season). "But now you'll find out who your real friends are.

"And it'll be Pop."
Source: www.thatsracin.com/2012/09/15/94395/in-the-force-family-relationships.html
Ready and waiting for my shot at Nationals

---
A lot of stress comes along with the U.S. Nationals, but also a ton of excitement. We had a really crazy week leading up to the race, but I really enjoy promoting our sport, especially for this race. The U.S. Nationals event at Indy is the Super Bowl of NHRA drag racing, so there is a lot of media to kick off the event.

I had the opportunity to throw out the first pitch at the Indianapolis Indians game the Monday before the race weekend. I've never thrown out the first pitch at any game before so it was really cool, especially since it was for the Indians -- John Force Racing is based in the area.

On Wednesday, I did a full day of media in downtown Indianapolis. I was on the local show "Indy Style" with fellow female Funny Car driver Alexis DeJoria. I also chatted with some pretty cool radio hosts on different radio stations.

We had our annual John Force Racing summer car show at our shop in Brownsburg, Ind., on Thursday. This is always a blast for us because it's such a big event for John Force Racing. Many in the local and racing communities look forward to it every year because it's like a vacation for them. All the JFR drivers, including my sisters and Bob Tasca III, attended, signed autographs and took pictures with the fans. I look forward to this every year because it really gets the fans excited for the upcoming race, and it gives them a chance to see the shop where our race teams work, which is rarely open to the public. They get a chance to walk through our machine shop, museum and merchandise store and check out our Funny Cars, old and new, as well as a mixture of all makes and models of show cars.

U.S. Nationals is not just the biggest race of the season, it is also the final race before the top-10 drivers are locked into their positions to battle it out in the Countdown to the Championship. I'm currently sitting sixth in points in the Funny Car category and really need to do well at Indy to lock myself into the top 10 to fight for the title along with "the boys" of the sport!

Besides the fact that the race alone is a big deal, this year my sponsor has added a specialty "race within a race" called the Traxxas Nitro Shootout. Only eight drivers in both Funny Car and Top Fuel get to compete for the $100,000 and a shot at doubling up on wins for the weekend. The final spot for the Traxxas Nitro Shootout was left to a fan vote and lottery. They drew a winner downtown at the NHRA Fan Fest the Wednesday before the race and I was the lucky winner!

It's so exciting that Traxxas has brought back this specialty race for the Top Fuel Dragsters and Funny Car categories, and even better that they give any driver a shot at that last open spot. I'm so excited to be racing it.

We had a lot of rain over the race weekend and it ended up delaying qualifying and eliminations. We got through only three of the five qualifying runs and I managed to grab the No. 1 qualifying spot Saturday, when I ran my career-best elapsed time of 4.04 seconds and set the track speed record at 317 mph! It was even better because I was a guest on "Wind Tunnel" on SPEED the very next day and I got to talk about being No. 1 qualifier.

I'm so excited to have run such great numbers and I was ready to go into eliminations, but because of the rain we won't be able to finish qualifying until next weekend. I have so many mixed emotions because I had my energy up and was excited and confident, feeling like I had a great car going into the biggest race of the season, but now my No. 1 spot has the potential of being taken away from me next weekend. It's definitely a bummer to have to stick it out for a week, but I'll be ready to go when they let us fire up our Funny Cars on Saturday and hope to give everyone a run for their money!
Source: espn.go.com/espnw/blog/post/1574/ready-waiting-my-shot-nationals
Courtney Forcer on track to clinch Countdown spot in Brainerd

---
One event on the NHRA Full Throttle Drag Racing series tour stands between Rookie Funny Car driver Courtney Force and her first ever Funny Car attempt at "The Big Go" that is the Mac Tools US Nationals in Indianapolis Labor Day weekend. Before Force can look ahead to such an event, she is faced with the pressure of the Lucas Oil NHRA Nationals at Brainerd and all the pressure surrounding it.

"I'm so excited going into the Brainerd race, especially coming in fresh off a win in Seattle. I'm looking forward to hopefully doing well enough at the race to get my Traxxas Ford Mustang locked into the Countdown to the Championship, going into The Big Go," said Force.

This weekend in Brainerd, several drivers have the opportunity to clinch spots in the NHRA Full Throttle Drag Racing series Countdown to the Championship. The 24-year-old out of Yorba Linda, Calif., can clinch by winning the first round of eliminations depending on qualifying position and qualifying bonus points, or will clinch by making it through the second round of eliminations.

"We've got a great race car and a pretty consistent one at that. As a driver I just want to do my job right by keeping this Mustang straight in the groove, leaving good, get it in the show and go rounds on Sunday," said Force.

This past week Force launched her campaign for the 8th and final spot into the "Traxxas Nitro Shootout," the race within a race that will be held during the Mac Tools US Nationals in Indianapolis.

"I had so much fun filming the campaign video for the Traxxas Nitro Shootout and hope that fans can see another side of me. I really wanted to show how much I want to be competing in that Traxxas Nitro Shootout against my teammates. I need the fans' support and their votes on NHRA's Facebook page following this weekend's race in Brainerd. My Traxxas team has put together a great race car for me all season long, so I really want to get into that Traxxas Shootout and show everyone what we've got," said Force.

With the fan vote/lottery style drawing, Force has a chance to join her fellow John Force Racing teammates in the Traxxas Nitro Shootout. You can view Force's comical campaign video youtu.be/YLvT9FL6qbw
Two weeks ago at the NHRA Northwest Nationals in Seattle, Force wrapped up the Western Swing by taking home her very first Funny Car Wally. There was a little bit of struggle during qualifying on the Traxxas team's end, but the youngest Force daughter swept past previous World Funny Car Champions Cruz Pedregon, John Force and Matt Hagan as well as Bob Tasca III in eliminations on her way to victory, and did it all the way from the no. 14 qualifying spot.
Force's win put her back into the No. 6 spot in the points standings and placed her about two and a half rounds in front of Cruz Pedregon in the No. 7 spot.
"Getting my first win in Funny Car was such a huge accomplishment for our Traxxas team, but I really owe all the credit to the guys working on my car, as well as everyone at John Force Racing. This was a dream come true; seeing that win light in the final round against defending champ Matt Hagan, and getting to hold that Wally in the Winner's Circle was so surreal.
"Making it to three final rounds and getting that victory in only our 15th race of my Rookie Season was huge! I'm so proud of my team, and hope to continue having a great season while hopefully clinching into the top 10 for the Countdown to the Championship," said Force.
The rookie driver has been busy the last four weeks. She and father, 15-time Champion John Force attended Summit Motorsports Park's annual "Night Under Fire" in Norwalk, Ohio the weekend after Seattle, where Courtney took home the trophy. Fellow Funny Car drivers including Alexis DeJoria, Jeff Arend, Jim Head and Dan Wilkerson were also in attendance along with over 850 sportsman racers.
"It's always exciting getting to go to Night Under Fire and just race without any pressure. Racing is what I love to do and am passionate about so it was exciting for me to get out there and race against some of the best while putting on another great show for the fans! Bill Bader puts on a great show every year so it was really cool to be apart of it for the first time in a Fuel Funny Car," said Force.
Source: femaleracingnews.com/drag_racing/courtney-force-on-track-to-clinch-countdown-spot-in-brainerd/
Courtney wins her first Wally at Seattle.

---
Courtney Force won in just her third final round appearance of her rookie year today at the 25th annual O'Reilly Auto Parts Northwest NHRA Nationals. The rookie driver defeated three Funny Car world champions – Cruz Pedregon, john Force and Matt Hagan – as well as veteran driver Bob Tasca III en route to her first win.

As Force took the stage in the winner's circle NHRA announcer Alan Reinhart introduced Force, she quickly explained why her Traxxas fire suit was completely soaked.

"They dumped a lot of Full Throttle on me at the other end. A cooler of it!" she said.

She is the eighth different John Force Racing Funny Car driver to win a Full Throttle Funny Car national event after John Force, Tony Pedregon, Eric Medlen, Gary Densham, Robert Hight, Ashley Force Hood, and Mike Neff. She is the thirteenth different woman to win an NHRA National event in the Full Throttle Drag Racing Series.

Force struggled through qualifying throughout the weekend, making her victory on race day even more rewarding for John Force Racing and the Traxxas Ford Mustang Funny Car team.

"We struggled a little bit in qualifying, but we got in and that's all that mattered and just to keep our car consistent and get this Traxxas Ford Mustang to the other end, that's all we needed to do and we did it for all four rounds," said Force.

Coming from the No. 14 qualifying position, her worst start of the season, the 24-year-old got her first round win over Cruz Pedregon.

"That was definitely a big run for me. Cruz Pedregon is a tough competitor. I grew up watching him race my dad. It is always exciting racing him. Getting that win light was huge for us. We want to get that No. 6 (points) spot back for this Traxxas Ford Mustang. We needed that run. We are trying to stay consistent," said Force following her first round victory.

She moved closer to her third final in five races with wins over Bob Tasca III, her father and 15-time Funny Car World Champion, John Force, and Matt Hagan in the final round.

"Every guy worries about losing to a girl, but I don't at all," Hagan said after the final.

"She's a great driver and doing a heckuva job. She's driving the wheels off that thing," added last year's Full Throttle Funny Car Champion.

Force got her first national event win at Seattle in 2009 and suffered her most challenging race of her career here in 2010 when she managed to avoid an accident while racing Mike Austin. Force's right rear tire exploded destroying a portion of her Ford Racing Top Alcohol Dragster's rear wing.

Today Force is the national spokesperson for Ford Motor Company's Driving Skills for Life initiative and "Rookie of the Year" frontrunner for Auto Club's Road to the Future Award, a prestigious award handed over to NHRA's top rookie for 2012.

"I honestly am still in shock. I think I'm still shaking. I mean, coming back out here to Seattle, there are some good memories and some bad. I had my first win out here in Top Alcohol Dragster which was such a huge accomplishment for me just to even have a Wally in my house. At the moment I was telling my dad, 'I can't wait to have a Funny Car Wally in my house,' because you know what, dad has way more than enough so he can't be mad at me for taking him out in the semis. It's been an amazing day.

Force and her sister Ashley Force Hood have similar skills, but the reason people believe Courtney is more like their father is obvious beyond her driving abilities and her gift for gab. Force Hood got her first Funny Car win in April of 2008 during her 27th national event, her 23rd start in the Funny Car class. Courtney has accomplished the same in just 15 races.

"I'm definitely on a learning curve this whole season. I've been learning something new at every race track. This one was a little bit more familiar to me, but it's tough. There's a narrow groove and this car was trying to pull me over to the left in both lanes and (I was) just trying to keep it straight.

"My crew chief was telling me, 'well, you kinda cost us a couple of the qualifying runs; you kinda drove it over to the left,' and you gotta fix that as a driver. They gotta be brutally honest with you and you have to go back out there and do better and that's exactly what I did and I'm glad. I need them to be honest with me, but I have a great team and great crew chief and my dad being an amazing teacher with me, being so patient with me; everyone this past season helping me learn about the Funny Car all last year so I really couldn't ask for a better team with Robert (Hight), Mike Neff and my dad and Ashley's been teaching me too. I wish she was here this weekend," she added.

After the first NHRA event of the season Force was sitting in the No. 6 spot in the points standing. After a roller coaster of event finishes qualifying for all 15 in 2012 to date, and appearing in 6 semi-finals and 3 finals, Force moves around Cruz Pedregon and reclaims the No. 6 spot.

"There's still a little bit of pressure there. You're trying to stay in that top ten and I know I didn't help my dad out when I took him out in the semis; he's fighting to get in. I felt so bad, but I told him he's the one who taught me how to race so I guess it's his own fault. I told him I'm going to do my best to take Hagan out for him and help him gain those 20 points back."

"I have an amazing team. This whole group of new guys that came on board with me this season, I'm sure they were hoping for a different John Force car when they joined our team, but they ended up with me; a rookie driver and a girl, but hey, I mean I got them a win and I wouldn't have been able to do it without them," said Force.

"A big congratulations to Courtney, the TRAXXAS Ford Mustang Funny Car team and everyone at John Force Racing who has helped in Courtney's development," said Jamie Allison, Director of Ford Racing. "That apple did not fall far from the tree. With her talent and experience, we knew she'd celebrate her first win sooner rather than later. We and all Ford fans are delighted to see her win the Wally as a rookie."

John Force kept a number of his pursuers at bay racing to the semi-finals before falling to his youngest daughter. Force opened up the day with a tough match-up against Alexis DeJoria. Force had a superior reaction time to the rookie and that proved to be the difference as his slower elapsed time, 4.254 to 4.185 seconds, still got him to the finish line first when it was combined with his stellar .035 second reaction time.

"When you go up against these kids like my own daughter Courtney or DeJoria. She has big money out there. That is a dog fight. I have Hagan breathing down my neck and Wilkerson is coming. This old man is trying to stay in the fight. I have a good race car right now. There is a lot of good stuff happening with our team it is called teamwork. If anybody fails at this it is probably me. My boys are doing good," said Force.

In the second round Force faced his nemesis Jack Beckman from Don Schumacher Racing. He had dropped the last eight meetings to the former drag racing instructor and he was giving up lane choice. The wily veteran Force once again had a superior reaction time .051 to .111 and he took his second round win of the day and secured his position in the Top Ten for another event.

Going up against his daughter in the semi-finals was tough for Force but at the end of the day in the press room after she won the event the proud father and team owner was beaming.

"She really did it herself out there today. What amazes me the most about her is she really does talk. She is kind of wired up like me but she has that coolness like her mom. Before the final she said dad my helmet has a big old scratch down the middle of the visor. I went into full panic mode on the starting line. She said it was OK because she could see the tree to the right of the scratch. Me I would have been pulling my helmet off. I am just proud of her today. It is funny it took me 10 or 12 years to win my first race. It took Ashley two years and Courtney said at the top end it was the first time she beat Ashley to anything in the Funny Car. I finally did something ahead of her. We won't even tell her. She is calling her mom but we are making her watch the ESPN TV show," added Force, a seven-time Northwest Nationals winner.

"I was wired up and on the PA. I am yelling at her and I don't even know if she can hear me. I stuck my head in her car and said he is the champion over there but you took the other champion out in the semi-finals. I told her she took me out she can take Hagan out. I was just trying to give her positive vibe. She doesn't need it. The women know their drill. I am also really proud of Erica Enders to go out there and do what she did. Shirley started all this with a number of other women. These are the young kids they are our future. It is awesome where they are going to be in 10 years. I am really excited. It is a sport for the women. It has always been a sport for the men but the rules are changing."
Source: femaleracingnews.com/drag_racing/courtney-force-win-her-first-wally-at-seattle/
For Force, unbelievable feeling in posting first NHRA victory

---
I got my first win at the NHRA Northwest Nationals this past weekend in Seattle. I beat Chris Demke and it was unbelievable. When I saw my win light, I didn't believe it at first. I was hoping I'd won and when I went around the corner, I saw Kelly Antonelli, our marketing person, and all our friends standing at the top end clapping.

I thought maybe I did get the win but I still didn't want to get my hopes up. I was just so excited I can't even believe we won in Top Alcohol Dragster with our Sanyo car for BrandSource, Castrol, Ford and Auto Club.

I had to race my sister Brittany in the semifinals. You would think that would be a lot tougher but it was a lot of fun. You don't have to worry about someone messing with you on the starting line. We both went in there and did our same routine. We just had fun with it. I got the win over her but she'll probably wind up kicking my butt the next time we race.

The best part about that race was that Brittany was really happy for me. She ran over and hugged me. She congratulated me for going to the final. We knew one of us was going to the final and either way it would be our first official final. I definitely didn't expect to get a win out of it. I would have just as happy if she would have beaten me.

There was a lot of pressure for that final. I was walking around after my dad, John Force, went out in the semis of the funny car class and I heard the announcers say it is all up to Courtney Force now. I thought, 'Man, I wish I hadn't heard that.' I wish I would have been wearing my headphones. That is too much pressure. Jack Beckman, the Funny Car driver, came up to me told me to just have fun. He told me to not think about it as a final. I just went out there and had fun and happened to get a win.

My dad didn't really give me any new words of wisdom. His famous words for us are "amber, step, amber, step" so I can just leave on the guy. I had a good light in the final and left first. I am really excited about that. My crew guys have been out here working really hard.

Other people asked me if my older sister Ashley gave me any tips but I didn't even see Ashley much on Sunday. She was excited that both Brittany and I were going rounds, I know that. I saw her drive up on the scooter with her husband, Danny. It is always fun having my whole family there on the starting line.

In that final race I saw Demke right ahead of me as we were racing down track. I was just holding on and driving as fast as I could. I was just hoping this Sanyo dragster would cross the finish line first. I saw him right ahead of me and then his car fell back. It went back a little bit and I barely caught up to him to get the win.

My goal this year was to get round wins. My guys have been working so hard and we have been progressing at every single race. We have been winning first round a lot and then winning second round. This was my third semi and my first final.

I think the biggest key to my success and Brittany's success has been that since last day of school this year we have been on the road the whole summer. I love being at the races. I almost hate sitting around at home so I am happy that we are back out at the track. I think us being so consistent really helped us figure out the car more and helped me get more seat time. I am still learning.

We did also have some fun this weekend off the track. Before the eliminations started we Feng Shui-ed Mike Neff's lounge. I didn't even know one thing about Feng Shui but I looked it up to figure this out.

We did it for the Ford Fiesta Movement and we picked the mission to Feng Shui a house or a trailer. My dad was like, "don't do my lounge; go do Mike Neff's." I can't believe my dad didn't trust me to decorate his trailer. He had us do Neff's trailer and Neff got through first round. After that I think I took the Feng Shui luck over into my trailer. We ended up getting the win.

The weirdest part is we are used to having dad or Ashley or Robert Hight, my brother-in-law take home the trophy for our team. It is weird that I am actually taking it home this weekend. I really want to dedicate this trophy to my dad. He has helped me through all this. He has done everything for me. He has never stopped, never given up on us. I just want him to know that I really appreciate everything that he has done. I hope he is proud that I finally got him a win.
Source: www.usatoday.com/sports/motor/nhra/2009-07-21-courtney-force-diary_N.htm
---
Courtney Force has won more successive racing rounds in one event than even her famous father, 14–time NHRA Funny Car Champion John Force.

In fact, had she been driving a fuel Funny Car like her dad's Castrol GTX High Mileage Ford Mustang when she won five rounds of racing at Houston, Texas, she would have landed on the podium as a race winner.

Unfortunately, competing in Super Comp, the category in which she learned her high performance ABC's in a BrandSource–sponsored dragster, five wins merely constitutes a good start.

As a result, the 19–year–old still will be seeking her first major victory this season as a rookie in a Top Alcohol Dragster division in which she will split cockpit time with older sister Brittany in an A/Fuel dragster maintained by veteran Jerry Darien.

Along with her mother Laurie and Brittany, Courtney earned her NHRA competition drivers license in 2005 after graduating from Frank Hawley's Drag Racing School. Ironically, she was the one daughter her father always believed would follow him into the family business — and she hasn't disappointed.

A second year student at Santiago Canyon College, Courtney followed sister Ashley's lead while attending Esperanza High School in Yorba Linda, Calif., and took an auto shop class along with more traditional courses.

"Their mother has tried to give them balance in their lives," Force said of his daughters. "She tells them that there's more to life than just racing. I tell them that if they want to be champions, they have to live racing, night and day but, bottom line, I want them to do whatever they want even if it's not racing."

Statuesque like her mother, Courtney is undecided on a full–time career in racing but has learned the family business in the glare of the spotlight as one of the stars of Driving Force, a real–life TV series that last aired on A&E Network in 2007.
Source: www.castrol.com/castrol/genericarticle.do?categoryId=82915625&contentId=7016720
Following in Their Footsteps
When your dad and your older sister spend most of their time setting records and re-writing history books following in their footsteps or tire tracks for that matter could seem to be an intimidating prospect.
Not so for 20-year-old Courtney Force, the youngest of 14-time Funny Car Champion John Force's daughter, who will be entering her second season behind the wheel of a BrandSource sponsored, Jerry Darien tuned A-Fuel Dragster. After a solid test session to open the 2009 season the youngest Force is ready to get back on the track.
"I am excited. I got through my rookie season and I am still learning. I am ready to get the season started in Pomona and do better this season. I would really like to go some more rounds. I think now that I have gone through one season I have a better idea what racing Top Alcohol Dragster is all about and I know what to expect," said Force. "I feel like I am better prepared for a new season. It is not about remembering and trying to focus on everything. Now that comes more naturally to me and I can focus on working on my lights, staging and racing other people."
The former high school cheerleader and current communications major at Cal State Fullerton will be seeking her first major victory this season. Last season as a rookie in a Top Alcohol Dragster division she started the year splitting cockpit time with older sister Brittany but moved into her own ride at the storied Mac Tools U.S. Nationals.
She qualified at five events including the prestigious Mac Tools U.S. Nationals and picked up her first round win at the O'Reilly Fall Nationals in Dallas.
As she spends more time in the cockpit getting racing experience and learning from here teammates including older sister and NHRA super star Ashley Force Courtney knows she is on the right career path for her passion.
Courtney picked up her A-Fuel license during the pre-season testing season at Firebird Raceway in 2008. At the time it had been nearly five months since the youngest Force had been behind the wheel of the 250 mph dragster but she showed no signs of rust as she powered down the track to clinch her license on a designed shakedown run.
"It went good. I wasn't really planning on making a full pass because it has been about five months since I have been in the car. I had to get used to the whole routine again. I was only planning on making a launch or maybe driving to half track but it felt good so I thought I'll just stay in it. I made that decision while I was going down the track. It felt good so I just kept it straight and finished it off.
Along with her mother Laurie and Brittany, Courtney earned her NHRA competition drivers license in 2005 after graduating from Frank Hawley's Drag Racing School. Ironically, she was the one daughter her father always believed would follow him into the family business – and she hasn't disappointed.
Statuesque like her mother, Courtney is undecided on a full-time career in racing but has learned the family business in the glare of the spotlight as one of the stars of Driving Force, a real-life TV series that last aired on A&E Network in 2007.
Source: www.courtneyforce.com
Saturday June 4, 2005 - Raceday 1

---
In the 64 car Super Comp field that showed up at California Dragway, Megan McKernan was able to claim the No. 1 Qualifying spot. After several rounds of racing Megan made it to the 5th round out of 6 rounds. This was quite an accomplishment after her first competitive day of racing.

Brittany took her Super Comp dragster into the 2nd round before losing with a malfunction in the car. Courtney is racing the dragster that her older sister Ashley got her racing start with. A new Victory Race Cars dragster is being built for Brittany and Courtney will take over driving this car in about a month.

With day one behind them, both Brittany and Megan prepared themselves for day two race on Sunday.

John Force was very impressed with how well California Dragway - track manager, Dave Danish and his crew prepared the racetrack and ran the races both days. Force commented, "these guys do a great job and the really make it fun to race at this local hometown track. It gives a lot of racers a great place to race and pit at a first-class facility".


Sunday June 5, 2005 - Raceday # 2

---
Sunday's race was a big Force family reunion, as Ashley and her mom Laurie flew in from Memphis where Ashley had been racing her Castrol/Hot Wheels dragster to see the "Next Generation" girls go a few rounds; along with their other sister Adria and the newest Hight/Force newborn – Autumn.

Everyone took the day in stride as Megan lost in the first round and Brittany was able to take her car into the 3rd round before being eliminated. The high point of the day was Brittany's perfect reaction time in the 2nd round of .000. John Force commented, 'that's why we're training these girls early so they'll be perfect on the tree when they take on the funny car boys someday in the future!!!"

Not only were the girls racing that weekend, they were also the main attraction of a new "reality TV show" featuring the Force Family that is being pitched to several networks at the present time. Brent Travers was on hand with a small film crew to capture the day of racing with the two youngest Force daughters.


June 8, 2005 - Super Comp Update

---
The John Force Racing's "Next Generation" racing program continues to take shape with the youngest Force daughters – Brittany & Courtney, and Megan the daughter of Auto Club of Southern California president - Tom McKernan. These three young, talented and beautiful girls were testing and racing their Super Comp dragsters last week at the California Dragway in Fontana, CA.

John Force rented the dragstrip on Thursday to give all the girls plenty of seat time and practice before the weekend's Lucas Oil Super Comp Association point's race. Brittany, Megan and Courtney all logged in about 12 runs each that day and showed great promise. They were able to get individual runs, as well as plenty of side-by-side runs to prepare Megan and Brittany for the Saturday and Sunday races.

Roger Conley is the head crew chief and tuner for all three cars with Jack Beckman as assistant crew chief. Jack is not only racing himself in the NHRA events this year, but he's also a Frank Hawley Drag Racing School instructor that taught all three girls to drive their Super Comp racecars. Also part of the race crew was the Force girl's uncle – Robert Hight along with Shane Whaling and Eric Boutchyard from the CNC Machine Shop at the Force Racing facility in Yorba Linda. John Force watched on with fellow "proud" father Tom McKernan as each of the girls took instructions, and listened intently before and after each pass down the quarter mile. All three had great reaction times, and ran very close to the 8.90 second index for this class.


Results

---
2012: Will make Professional racing debut, competing alongside her father, John, in the Funny Car class
2011: Tested and licensed in nitro Funny Car
2008-10: Competed in Top Alcohol Dragster category in NHRA Lucas Oil Drag Racing Series. Scored first national event win in Seattle in 2009.
2005-07: Competed in Super Comp category in NHRA Lucas Oil Drag Racing Series

* * *

---
WomenInRacing.org | Contact Us
©1996-2023 by Gordon Clay