LATEST SNIPPET
Julia was one of the competitors on Survivor Caramoan: Fans vs Favorites. Check out trailer at http://bit.ly/XF8aJo and then
Direct access to this web page: http://bit.ly/9Y0lJL
Women and Driving: Innovation, Engineering and the Rolex 24 Hours at Daytona
The Daytona 500: Cup Highs and Nationwide Lows
Behind The Wheel With Julia Landauer, Nascar Racer
Julia Landauer Has Strong Showing at Legends World Finals, Leads Race
Life Lessons Learned Early, 1st Ed.
Women And Driving: Where Are All the Women Race Car Drivers? (Part I)
Women and Driving: Rise of the Women Racing Engineers! (Part II)
Julia Landauer and GFC Partner!
Formula BMW
A Girl Has No License to Drive, but Permission to Speed
2007 Schedule
Results
Schedule
Photo Gallery
Contact: www.julialandauer.com
, E-Mail
Related Issue: Women Racers Directory, Women in Racing, Women Racers, More Women in Racing, Race Schedules, Notable Women

DOB: 11/12/91
Hometown New York, NY
Residence: Stanford, CA, New York, NY, Charlotte, NC
Height: 5'5"
Weight: 120
Blood Type B+
Who started you: I started racing go-karts at age 10 as a family sport with my parents, sister, and brother.
Biggest influence: I've had several influences and role models, including Glenn Butler, Lyn St. James, Michael Schumacher, and Mark Martin.
Women you admire: Janet Guthrie, Shirley Muldowney, Lyn St. James, Danica Patrick, Ashley Force Hood, Sarah Fisher, Divina Galica.
Fathers Thoughts: Both of my parents fully support my racing and want to see me succeed.
Your encouragement: Find good people who you trust to work with, and never let someone tell you "no."
Julia fell in love with racing at age 10 when she started racing go-karts with her family. Finding early success in the form of wins and championships, she received the attention and respect from her competitors as she continued to climb the karting ranks to the national level, where she frequently visited the podium and won.
Julia smoothly transitioned to racing cars at age 13. At age 14 she made history as the youngest and first female champion in the Skip Barber Racing Series, and has since honed her racing skills in a range of series from Formula BMW to Ford Focus Midgets (where she won in her first season, with Bob East). Now officially a NASCAR Driver, and a multiple-time amateur champion, Julia races in the Whelen All-American Late Model Series at All-American Speedway in California and South Boston Speedway in Virginia. Julia plans to advance to the NASCAR K&N Pro Series (first NASCAR series to provide television coverage) in 2012.
Now 20, Julia is also a student at Stanford University where she is majoring in Communications & Engineering. One of her goals is to use her education to help make the racing industry more environmentally friendly and she is working with professors to come up with different ways to "green" the racing industry. Racing is about efficiency, something Julia strives for in most areas of life.
Julia is developing her brand and company, Julia Landauer Racing. She has established a social media presence with her website, Facebook fan page, and Twitter account. Julia works to brainstorm, implement, and analyze strategies for brand development and business growth.
Julia sets challenging goals and works hard to achieve them no matter what adversity she faces. Whether it is being a female in a sport dominated by men, a New Yorker finding a niche in California and the South, or an individual balancing a racer-businesswoman-student lifestyle, Julia doesn't let anything stop her.
A proven winner on and off the track, Julia appeals to a diverse group of people and organizations. She is engaging, charismatic, disciplined, attractive, and inspiring. Julia serves as a role model for many, but also learns everything she can from the people around her.
Julia understands the strength in collaboration and teamwork and motivates and excites everyone around her, from the mechanics to the team owner, to work hard and excel. She leverages her femininity, abilities, enthusiasm, humor, and business savvy to build her distinct and never-before-seen brand. There is no woman, New Yorker, racer, or student like Julia.
Julia is currently involved with 85 Broads, the Levo League, the national organization Girls for a Change, and Ann Taylor LOFT, and she blogs for the Huffington Post. Julia has been featured in the New York Times, the New York Daily News, RACER Magazine, local newspapers around the country, and on Fox News LIVE!
Since making history at the age of 14 as the youngest and first female driving champion from the Skip Barber Racing Series, Julia Landauer has explored all types of racing, from Formula BMW to Ford Focus Midgets, where she won in her first season.
Now officially a NASCAR Driver, and a multiple-time amateur champion, Julia races in the Whelen All-American Late Model Series at All-American Speedway in California and South Boston Speedway in Virginia.
At age 19, Julia is a student at Stanford University where she is majoring in Communications & Engineering. The first NASCAR driver ever to hail from New York City, now tapped into the Stanford University community of Palo Alto, California, Julia is a unique brand ambassador, breaking virtually every traditional stereotype associated with motorsports.
Team Julia – Julia's racing team – is currently exploring ways to help brands drive their consumer marketing initiatives through retail activation, mobile marketing, and social networking.
Innovative, flexible, and driven, Julia's approach to racing and brand integration provides a creative platform for partnering, and leveraging her one-of-a-kind position in the NASCAR world.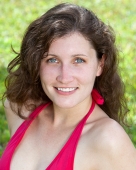 Personal Claim to Fame: I'm most proud of becoming the first female champion in the Skip Barber Racing Series. In its 31 year history the series never saw a female champion, and I made that accomplishment when I was 14.
Inspiration in Life: Paul Newman. He incorporated all of his loves into his daily life with amazing intensity. He was confident, humble and had a beautiful grin that made everyone around him melt. Paul was a star and a true gentleman who managed to personally touch everyone around him.
Hobbies: Puzzles, building things, working on cars and exploring NYC by subway and California by car.
Pet Peeves: Slow drivers in the left lane.
3 Words to Describe You: Passionate, intelligent and driven.
If You Could Have 3 Things on The Island What Would They Be and Why?
1) A great book – I love to lose myself in a fictional world. 2) My ipod – music is one of God's greatest gifts. 3) Banana Grams – a nerdy game that's a combination of scrabble and a crossword. It's so much fun, competitive, creative and a great bonding game!
SURVIVOR Contestant You Are Most Like: Kim Spradlin, because she was very strategic, had few enemies and was a physical threat, all while maintaining her composure.
Reason for Being on SURVIVOR: I'm a competitive person and Survivor is the epic challenge that will require me to incorporate all my strengths, minimize all my weaknesses and test myself and hopefully rise above the rest.
Why You Think You'll "Survive" SURVIVOR: As a racecar driver I'm the center of my team, so it's my job to lead and motivate everyone to be their best. I am smart, analytical and strategic. I focus on the big picture but also take note of the small details.
Why You Think You Will Be the Sole SURVIVOR: I'm competitive, strategic, amicable, physically fit and do what I have to in order to get ahead. I'm extremely focused and have an amazing ability to concentrate. I've been through the highest highs and the lowest lows with racing. I'm quick, a great team player and street smart.

---
Julia was one of the competitors on Survivor Caramoan: Fans vs Favorites. Check out trailer at http://bit.ly/XF8aJo and then
* * *
She's on this season of Survivor (starting 2/13/13 at 8pm EST)
* * *
Julia has a brand new web site. Check it out!
* * *
Julia has been racing limited seasons of NASCAR Whelen All-American late models at All-American Speedway in Roseville, CA and South Boston Speedway in South Boston, VA since 2009, trying to get as much seat time as she can in 2012.
* * *
Julia, 14, will compete in the NASCAR Drive for Diversity conbine.
* * *
Julia took 9th in the first race of 16 cars and 11th in the second. She stands 16th of 23 cars at this point in the season. Rounds 11 and 12 of the Formula BMW USA Championship will be held at Road America, in Elkhart Lake, Wisconsin, on August 9-12.
* * *
Julia will be racing in the Formula BMW race at San Jose for two races, July 28 and 29.

---
Women and Driving: Innovation, Engineering and the Rolex 24 Hours at Daytona

---
Ladies and gentlemen, last weekend marked the 52nd running of the Rolex 24 Hours at Daytona. The first major race of the 2014 season roared on for 24 hours, with 67 cars, in 4 different divisions, to complete 695 laps.

This is my favorite race to watch every year. I designate a spot on the couch (or my dorm room, for the past four years) and set up camp where I can always keep an eye on the race and an ear on the commentators. I listen for the names of racers I know, for the names of legendary heroes and for the off-track stories about how the crewmembers sleep in reclining leather chairs for a 20-minute nap in the middle of the night.

This year I was thrilled to hear the name Leena Gade on air. She's an engineer at Audi Sport, and the broadcast was giving her a featurette. (I mentioned Leena a previous post, right after she became the first woman to be part of the winning team in the 24 Hours of Le Mans in 2011).

I applaud and thank all supporters of women in tech -- the women themselves, advocates, enablers and those who cheer us on. So when Leena was recently named the new ambassador of the FIA Commission for Women in Motorsport to promote young aspiring female engineers in racing, she became an even bigger hero of mine, as did Audi and the FIA.

Leena is a particularly interesting role model for me because she operates at the exhilarating intersection of academic technology and the rush of racing. I wish more people were exposed to that field so that they could feel the excitement as well.

We're clearly underway in the movement to get more women working in tech sectors. And in order to get more women into racing engineering, specifically, I see three things that need to happen:

1) As a society we need to continue de-stigmatizing women engineers and encouraging young women and girls to pursue STEM fields if they show interest

2) We need to stop demonizing the automobile and incorporate it, and racing, into an academic focus. Stanford's REVS Program began doing this at the university level, but we need to do it at the K-12 levels as well

3) We need the women already involved, such as Andrea Mueller, Lisa Lilley and Alba Colon, to get publicity and share their stories, advocating for other women to get involved

And we can never quit!

Engineering projects are about problem solving. They require insight, innovation, knowledge, and an undying desire to find an answer. Combine this problem solving with speeds exceeding 200 mph, a 3,400 lb machine, and a driver with specific driving styles and needs, and you have a thrilling project. Everyone should be able to see himself or herself in that experience.

Because at the end of the day, as Leena said in a promotional video, "you have to have total commitment to the project...whether you're male or female."
Source: www.huffingtonpost.com/julia-landauer/women-and-driving-innovat_b_4688265.html
The Daytona 500: Cup Highs and Nationwide Lows

---
The Lady Up Front
"Boogity boogity boogity, let's just go racing!" screams Darrell Waltrip from the booth. That's when you know the green flag has flown and the Daytona 500 is under way.
Normally Waltrip says, "Boogity boogity boogity, let's go racing, boys!" But from here on out his trademark phrase will have to be slightly altered to include the sole lady racer, Danica Patrick.
I was thrilled when Danica qualified on pole for the 55th running of the Daytona 500. Yes, I wanted to be the first woman to do that, but women in racing is bigger than me. In the effort to draw in more female racers, crewmembers and race/safety officials to the sport, Danica's history-making pole was a huge contribution. Hopefully this contribution will help catapult more women into the sport.
People will critique it, saying that a pole on a super speedway (oval tracks that are over 2 miles long, such as Daytona or Indy) is irrelevant to the rest of the season, so Danica's accomplishment is less of a big deal. How wrong! The fact is that success is success and if people consider super speedway poles and wins to be "easy accomplishments," then they should be taken out of the schedule. Or people shouldn't make a big deal about other racers finding success on them. But clearly there is a prestige that goes along with setting pole and winning at Daytona, which can't be taken away from Danica.
The big picture is that Danica showed that women can run up front at the highest levels of racing. There were concerns as to whether she'd be able to stay up front, and she did; She was in the top-five for the majority of the race and even became the first woman to lead laps at the Daytona 500.
Despite finishing 8th, which is still quite respectable, many people in the racing industry agree Danica did a great job and set the stage for the future of women in racing. Lyn St. James, retired racer and first female to win the Indianapolis 500 Rookie of the Year award, stated in an interview with CNN, "[Danica] did everything right for the whole race...she learned a lot and earned respect from so many people that it was a terrific start of the season and a positive example for women everywhere."
To piggyback off of Lyn's comment, my favorite result from Danica winning the pole comes in something Ella Gordon, Jeff Gordon's daughter, finally realized. As The Atlantic pointed out, Danica's pole brought widespread publicity to the fact that women can be racecar drivers too, something that 4-year-old Ella hadn't previously understood to be a possibility. Now think of what all the other little girls who grow up around racing are thinking! We can do it too.
The Nationwide Series Crash
Kyle Larson's horrific crash (which he walked away from) left over a dozen spectators injured and sent to the hospital. It was a tragic accident that left innocent fans harmed, two of whom were in critical condition (they have since recovered).
Many comments I have personally received have been something along the lines of, "How could NASCAR let this happen?" While it is terrible that people were injured, I resent the fact that some critics have implied that NASCAR doesn't take safety seriously.
After Carl Edwards' 2009 crash at Talladega, NASCAR officials immediately took into consideration how similar crashes may take place at other racetracks. Prior to the 2010 season, new 22-foot catch fences were installed at Daytona International Speedway to attempt to prevent a similar crash and result.
There are obviously improvements that need to be made, but it is unfair to claim that safety is not a high priority in racing. From the drivers' perspectives, racing is one of the safest sports with the least number of injuries (compared to football, soccer, and hockey, for example). And as an ESPN article mentioned, the fans trusted the repairs made to the fence from Saturday night that they remained in their seats on Sunday.
People connected to the sport know how crucial safety is and how well officials, especially given the parameters in racing, address it. Did you see their televised faces on Saturday? Clearly distraught and concerned. I have no doubt that NASCAR officials and track owners are now considering changes that may need to be made in order to prevent another crash like this one from happening. So let's give those guys a little more credit.
Safety in racing has come a long way, even in the past couple years. While perfection is difficult to attain, NASCAR and its affiliates are certainly making strides towards getting to that point.
Source: www.huffingtonpost.com/julia-landauer/the-daytona-500-highest-h_b_2765515.html
Life Lessons Learned Early, 1st Ed

---
Racing go-karts started out as a family hobby. What I didn't realize at first is that it is a training ground for life. I learned critical lessons before I hit puberty. Some lessons were excruciatingly difficult to accept and internalize. Others were extremely liberating. I will share them over my next several blogs.

Lesson #1: Fess Up When You Mess Up

In my rookie season at age 10, I started a race in fifth position. The drivers in front of me were all awe-inspiring champions (and all boys, but that didn't matter to me) who had been racing for years. Second and third place crashed in front of me. I made a few passes. All of the sudden I was in first!

The next two laps were exhilarating and terrifying. When the more experienced drivers caught up to me I tried going faster into turn six than normal. The kart wasn't turning fast enough so I turned more. Next thing I knew I was facing the wrong direction. I blew it and spun! I finished ninth.

I initially maintained composure when I got off the track. Shortly afterward I lost it. I was angry! I blamed my dad for telling me to try that move. His eyes grew infuriated. His mouth was tight.

He pointed at me and assertively jabbed me in the shoulder. Very colorful words left his mouth implying that it was my fault. He elaborated, "You were driving, not me. You made all the decisions on the track and you were the one who got flustered. NEVER, EVER blame anyone else for your mistakes."

I was flabbergasted.

But I also knew he was right. We had a lot of "debriefs" that night regarding my behavior. I went on to receive "Rookie of the Year" honors that season.

I was 11 when I entered the last race of the next season. I started in first place. I told my parents the kart was great and that I didn't want anything changed. It handled exactly the way I wanted during qualifying and I set the pole position. I knew I was going to destroy the competition.

The second place driver edged by me at the start of the race. I immediately saw red. I assumed the kart wasn't the same as before! My anger took over. How could my parents change the kart after I wanted it the same? They made me slower!

When the checkered flag waved I finished fourth in a race I expected to win. I pulled into the pits and turned off my kart. I lifted the front of the kart onto the stand as my dad lifted the rear. I trudged to the trailer, leaving my dad to push the kart back.

"You set it up wrong! I wanted it the same as before and you..." I knew I had made a terrible mistake. Just as with the year before, anger absorbed my dad's eyes.

I had done it again. I made the wrong decision for kart setup (I should have asked them to change it), then blamed others when I was the one with the wailing emotions and lack of composure. I should have admitted my error in judgment. I should have taken a deep breath. I should have focused on hitting perfect marks from there on out.

Worse still, I didn't own up to my responsibility. If I had, everyone would have accepted this race as a learning experience. Instead everyone was furious with me for unfairly blaming them.

That season I was named "Most Improved Driver" of the year. I felt that my biggest improvement, however, occurred the next year.

I took ownership of my performance during the season when I was 12. If the kart wasn't perfect, I made up for it with my driving. In one race I made contact with a kart going into turn one. We both damaged the front-end alignment. During another the air temperature heated up, making the track's surface oilier and therefore less grippy. I slid around the track. Bad things happen.

The team confers with the driver to set up the vehicle. But once the green flag is thrown everything depends on the driver. No matter what the cause of the imperfect vehicle is during a race, it is the driver's job to change his or her driving style to make the vehicle work. A true champion manipulates his or her equipment to win.

I was the track champion that year.

I couldn't have learned Lesson #1 without experiencing it. I had to grow up and acknowledge my mistakes. It was really hard! But it let me advance faster, with less baggage. I had to shelve my emotions when they interfered with my job. I had to assess my situation and improvise in my actions. It felt good to take control. It feels good to still be in control.

My ego didn't like admitting my mistakes. It still doesn't! It's embarrassing. I don't like being wrong. It's always easier to blame other people. In the long run, however, I know I am much better off having learned Lesson #1.

Now I always try to fess up when I mess up.
Source: www.huffingtonpost.com/julia-landauer/life-lessons-_b_1199932.html
Women And Driving: Where Are All the Women Race Car Drivers? (Part I)

---
What's it like being a woman in racing? Many people expect (or want) to hear that being a woman at the racetrack is rough and that I face constant sexism. While those elements might exist in racing, I've never thought of the sport like that.

Being a woman in racing is all that I know. I expect the slightly surprised looks when people first see me in my racing suit. I don't expect to be welcomed right away. It would be strange to be in the majority. It would be strange to earn respect more quickly, the way I see with male racers. It would be strange to fit in.

Being a woman in racing is undoubtedly a gift and a curse. People may not take me seriously at first. People may not believe that I have championship level skills. But other people may automatically consider me as a role model for other women, girls and underdogs. Some people may think I deserve more media attention for being a minority, whether or not I win.

In my 10 years of racing I've experienced all of the above. But there are some female racers who have an incredibly hard time at the racetrack. Then there are others who find unparalleled success.

One of those women has rocketed to the top and will be competing in this year's Great American Race, the Daytona 500.

Danica Patrick is the name that comes to most peoples' minds when they hear woman and racing in the same sentence. Danica has used her driving skills and attractiveness, among other things, to achieve phenomenal success. While I think I would do some things differently than she did, there's no denying that Danica's a good racer who has marketed herself well and has worked very hard for her success.

But Danica's approach to the racing business is only one approach. The question becomes whether or not our society is willing and able to support women racers who embrace different images. It shouldn't be expected that every woman who strives to make it to the top ranks of racing needs to pose for the swimsuit edition of Sports Illustrated or film suggestive GoDaddy.com commercials.

I don't think using one's sex appeal is wrong. People should embrace the personas they identify with. However, there needs to be room for women with different values to make it in racing. The racing world only has a few prominent female role models for young girls and women who more strongly associate themselves with something other than their physical appearance.

Though somewhat few and far between, those role models do exist. Lyn St. James, the first woman to win the Rookie of the Year Award for the Indianapolis 500 (in 1992) is a mentor to many young girls and women in racing. A personal friend and mentor of mine, Lyn developed the Women in the Winner's Circle Foundation to help nurture and teach young female racers about the racing industry.

One way that Lyn helps female racers succeed is by sharing the stories of other women who have made it in racing. Guest speakers at Lyn's events have included Shirley Muldowney, Janet Guthrie, Melanie Troxel, Sarah Fisher and Ashley Force Hood, all previously or currently prominent women in racing. Each role model presents a different experience that other female racers can relate to and learn from.

Lyn also emphasizes that parents, team owners, company executives and racing officials need to support women and girls at the grassroots levels of racing before we will see more women in the professional ranks. Until that happens, I fear female racers will be left behind.

When I was 12 I had just come off of a championship-winning season in go-karts. I beat out many great racers in the northeast at my home track in New York State. I was ready to take my racing to the national level. After approaching many well-established teams, no one wanted to bring me on to their team. I didn't understand what was going on.

One man, a world champion go-kart racer named Glenn Butler, saw my talent and potential and decided to work with me. Together we grew into a phenomenal team. Glenn helped me go from being a good racer to being a great one. There need to be more Glenns in the racing world for young women and girls.

It's normal for me to be a woman in racing. This simple answer is the first one that comes to mind. There are ups and downs to being a woman in racing, but that's not what I focus on. On track, I demonstrate that women can race well. Off track, I focus on what we can do to get more women into the sport so that we're not an anomaly.
Source: www.huffingtonpost.com/julia-landauer/women-and-driving_b_1281665.html
Women and Driving: Rise of the Women Racing Engineers! (Part II)

---
Going to school in the heart of Silicon Valley, I am exposed to many women who are breaking into the male-dominated world of engineering. I've heard speakers, such as Sheryl Sandberg, COO of Facebook, explain that our society needs more women in the technology and engineering fields. This push seems very natural to me and is one that I fully support.

And then I start thinking about the love of my life, racing, and how it plays into the women-in-engineering dilemma. NASCAR has implemented programs to get more women not only into the driver's seat, but also behind the pit wall (crew members, engineers, officials, etc.).

I'm obviously personally invested in seeing more women drivers in racing, but as a woman getting a Bachelor of Science degree in Stanford's Science, Technology, and Society department, I love seeing women in the engineering side of racing as well.

The racing industry is certainly following the lead of Silicon Valley's Google, Facebook, and IDEO, all of which have female engineers in many positions throughout their respective companies. We see female engineers in NASCAR at General Motors, in Le Mans at Audi, and in Formula 1 at Marussia Virgin Racing, to highlight a few. This is so cool!

Alba Colon, now the NASCAR Sprint Cup Program Manager for General Motors and Chevrolet, began working as an engineer at GM in 1994, fresh out of college in Puerto Rico. I had the pleasure of listening to her speak at one of Lyn St. James' Women in the Winner's Circle events, and she pointed out that she wanted to know everything there was to know about the engineering of racecars, and that motivation propelled her.

Gemma Lawrence is a control systems engineer at Formula 1's Marussia Virgin Racing team. She got an early start in "numbers and engineering" through the support of her parents, working on her dad's racecar and having her mom guide her in fixing her own pedal car. Lawrence has an extensive professional engineering career before joining Marussia, working as a transmission dyno engineer at the Renault F1 team, and an R&D engineer at Honda F1 team.

Leena Gade made history this past June as the first female engineer to win a Le Mans race! She did so with Audi Autosport, after spending four years climbing through the team's engineering ranks. Like Colon and Lawrence, Gade has always been interested in mechanics and engineering. In an interview with Forbes, Gade said, "I've always been interested in engineering. As a kid I would take things apart and put them back together from a mechanical point of view."

I have only worked with one female engineer. Kate Gundlach was the data engineer at John Walko Racing in the Star Mazda series when I tested with the team a few years ago. Up to that point I had only worked with male engineers and was therefore expecting working with Gundlach to be a new experience. It wasn't. The only difference in working with a female engineer, in my experience, was that she had a long ponytail. Gundlach knew her stuff, was purely focused on her job, and we were really fast that day at a track in Pennsylvania.

The common denominator with these women is that they discovered their passion for engineering and ran with it! These women didn't let the various deterring factors of the field of engineering turn them off.

And that's the powerful message here. Once you recognize your passion, grab it by the horns and make it happen. If you need help, ask for it. If you need support, find it from the people around you. There's no reason that women shouldn't do what they love, and what they're good at, because it's currently in a male-dominated field.

Marissa Mayer, engineer at Google, stated in a previous The Huffington Post article that early in their lives women and girls are exposed to narrow, unappealing images of engineers. This is problematic because we live in a society where females are generally expected to be attractive -- therefore, the message that most girls and women get from society doesn't support a technical career path.

So we need to combat that image! Let's present engineering and other technical fields as the very deep, stimulating, difficult, challenging, and rewarding fields that anyone who's interested in should join.

And hey, "nerd" doesn't have to be a negative thing. Instead of focusing on the first half of the Merriam-Webster definition, which defines a nerd as "an unstylish, unattractive, or socially inept person," we should focus on the second half of the definition: someone "devoted to intellectual or academic pursuits."

Devotion to anything is incredibly attractive -- and supremely powerful.
Source: www.huffingtonpost.com/julia-landauer/rise-of-the-female-engineer_b_1450909.html
Julia Landauer and GFC Partner! - 9/14/11

---
19-Year Old Professional NASCAR driver reaches out to inspire girls with her message of encouragement and empowerment for all young women.

San Jose, Calif. – 19-year old NASCAR Driver and Stanford University Sophomore Julia Landauer and her racing team have joined with Girls For A Change in a partnership that seeks to inspire girls everywhere to reach beyond their potential and seek out opportunities to take on non-traditional challenges.

Girls For A Change™ is a national non-profit organization that empowers girls to create social change. They invite young women to design, lead, fund and implement social change projects that tackle issues girls face in their own neighborhoods. Completely community supported, GFC provides the tools, resources, partnerships and support girls need to gain the voice, ability, and problem-solving capacity to realize their full potential.

"Girls For A Change (GFC) is honored to partner with Julia because she inspires young people. Julia demonstrates the 'drive' to live out a childhood dream while keeping grounded with education and family. She breaks stereotypes and provides a great role model to all girls. Being a part of GFC has mutual benefits for coaches and young ladies. We inspire and give energy to one another by learning to be good listeners and respecting one another. As a result we can brainstorm and implement ideas of change that have positive effects on communities," says Whitney Smith, Founder and CEO of Girls For A Change.

The partnership with GFC and Landauer gives the NASCAR rising star an opportunity to realize her goal of working with a group committed to transforming our world and reinventing girl culture. "As a girl-power advocate in the broadest sense, I'm thrilled to be involved," says Landauer. "Working with an organization like GFC has been a dream of mine for several years. Their mission is the empowerment of middle and high school girls to create and lead social change in their communities. I look forward to introducing these ladies to the power of hard work and going after your dreams, regardless of stereotypes or challenges."
Source: www.julialandauer.com/#/press/



2011:
- 4 top-10 finishes/9 starts, NASCAR Whelen All-American Series. South Boston, VA

2010:
- 2 top-15 finishes/4 starts, NASCAR Whelen All-American Series. South Boston, VA

2009:
-3 top-10 finishes, NASCAR Whelen All-American Series. Roseville, CA
-1st (out of 14), World Karting Association. Daytona Beach, FL

2008:
-4th in Championship, USAC, Ford Focus Midget Indiana Series, IN
-1st out of 10, USAC, Ford Focus Midget Indiana Series. New Castle, IN
-1st (out of 30), World Karting Association. Sheridan, IL

2007:
Julia was the youngest driver competing in the Formula BMW race series with Team KMA Racing. She is also the youngest female in Formula BMW history, as well as the second youngest Formula BMW competitor ever.
-1 top-five, 3 top-ten finishes, Formula BMW USA. USA and Canada

2006:
-1st in Championship, Skip Barber Regional Series. USA
-12 wins, Skip Barber Regional Series, USA
-9 pole position awards, Skip Barber Regional Series. USA

2005:
In October 2005, at age 13, Julia began racing open-wheel formula cars in the Skip Barber Regional Race Series. A graduate of the Lyn St. James Driver Development program, Julia's on-track performance speaks for itself. At 5' 3" and 98 lbs., Julia claimed the 2006 Skip Barber Eastern Regional Series Sportsman Championship with a perfect season winning 12 out of 12 races with 9 pole positions. In 2006, Julia was one of two drivers who participated in all five junior classes of the WKA Manufacturer's Cup and the only driver to claim top ten finishes in all classes. Julia has been racing karts since the age of 10.


Hoping to run a season of Legends Cars, NASCAR Whelen All-American Series Late Models, and test/race some NASCAR K&N Pro Series.


Photos: Streets of San Jose, July 27-29, 2007. Gordon Clay

* * *

---
WomenInRacing.org | Contact Us
©1996-2023 by Gordon Clay