LATEST SNIPPET
Christina is scheduled to race in her first Indy Light open-wheel race at Kentucky Speedway
gridded 23rd. She spun near the end of the race and finished 21st.
Direct access to this web page: http://bit.ly/9kopmv
Snippets
Results
Schedule
Related Issue: Women Racers Directory, Women in Racing, Women Racers, More Women in Racing, Race Schedules, Notable Women
Contact: web site or E-Mail

Birth date: Nov 2, 1987
Home town: Whakatane
20 year old Christina Orr has been racing since she was six, in Karts, Formula Firsts, Formula Fords and now the Toyota Racing Series.
A driver who created history, Christina Orr became the first woman to win a Formula Ford podium with her third overall placing at Pukekohe. She began he career in Formula First where she constantly ran in the top three at the age of 13! Now, four years on, she has the opportunity to apply her obvious skills to the "hi-tech" Toyota powered racing cars.
Winner of the Manfeild Winter Formula Ford Championship she runs in theToyota Racing Series.
The only female competitor in the New Zealand arm of the internationally recognised Toyota Racing Series, Christina has adapted well to this premier open wheel championship.
With some excellent results in the 2005 season, including a couple of nail-biting efforts that saw the Whakatane teen pushing hard and matching the series' top drivers, Christina's season culminated in a respectable seventh place overall.
In the first week of September Christina attended a closed track test event just for her at Manfield Raceway, Feilding. Also in attendance was Mat Charles from Boxman, Christina's main sponsor and Steve Butler from Be Still/The Red Door.The purpose of the day was to have Christina drive whilst being put under different mental and emotional stresses to see how she would cope, the end object being to build mental and emotional competence for Christina prior to the season beginning in November 2007.She drove a tin top Nissan Z race car, a far cry from her open wheel Formula Toyota. It was set up with in car camera's and microphones to catch all of the action.We also had Keith our camera man along basically filming everything, in fact it was his car we borrowed for the day. A bonus was Mat getting to do 20 or so laps alongside Christina, having been in a rally car before, this was a completely different experience, and one thoroughly enjoyed!

---

Christina is scheduled to race in her first Indy Light open-wheel race at Kentucky Speedway
gridded 24th.
Steady start for Orr at Kentucky

---
Kiwi Christina Orr had a steady start to her maiden outing in the Firestone Indy Lights series. Qualifying 24th with limited track time on an oval she will start with more confidence in tomorrows Kentucky 100.

Ana Beatriz, third in the standings in the No. 20 Healthy Choice/Sam Schmidt Motorsports car, tied her season high by qualifying second (56.0219; 190.211). Her other front-row start on an oval resulted in a trip to Victory Circle at Nashville Superspeedway.

"We just keep improving the car," Beatriz said. "We have put ourselves in a position that I think we can get a second win, but we will have to improve the car before the race because the Andretti Green car is really fast. I have to thank my Sam Schmidt team for teaching me all they know about ovals. They are very experienced in ovals. I am pleased to be starting on the front row because it is very hard to pass here. I just need to find a way to get around Raphael."
Source: www.nzracer.com/2321.html
Orr to race at Kentucky this weekend

---
This weekend we are at the Kentucky Speedway. Christina Orr will be making her debut in the latest round of the Firestone Indy Lights championship, the Kentucky 100. It's great because she will be the fifth Kiwi to compete in the series this season ( including Wade & Mitch Cunningham, Marc Williams and Jonny Reid).

I'm looking forward to it because for the limited testing that she did two weeks ago at Kentucky she showed extraordinary confidence for her first time on an oval. She drove as though there were no walls around her which shows great self confidence.
Source: www.nzracer.com/2319.html
New Zealand Racer Will Join Growing Kiwi Racing Force in Firestone Indy Lights Series

---
Another New Zealand racer is preparing to join the Firestone Indy Lights series.

Twenty-one year old Christina Orr tested at rural Putnam Park east of Indianapolis last week, earning kudos from one of the Indy Racing League's most-respected authorities on Kiwi racing prodigy: Mr. Ron Dixon.

"Christina Orr's test went very, very well," said Dixon in his weekly blog entry for NZRacer.com. "Christina was testing an Indy Lights single seater at Putnam Park road (circuit) course just outside of Indianapolis earlier in the week."

"She went out there and started doing 1:11 second laps (the track record is just under a minute). Each time she went out she reduced it more and more, ending up at the end of the day in the 1:03's."

"If we took her back a day later I believe that she would have been in the 1:01's."

According to Dixon the Kiwi hopeful will earn her oval racing license in July. It's unclear if she'll see competition in the waning rounds of 2008, or use the summer prep to advance onto the Indy Lights grid in 2009.

"It (the Indy Lights Dallara six-speed V-8) is not an easy car to drive and there is a lot more horse power than she is used to," continued Dixon, "but at the end of the day you couldn't get the smile off her face."

Orr Ready to Challenge International Field of Indy Lights

Orr proved a quick learner by taking the wheel of a Formula First machine at the wee age of twelve years and winning the winter round of racing, then finishing second in the year's overall championship. Her move into Formual First was preceded by six years of racing karts.

She turned heads with her skills in Toyota Racing during only her second full season behind the wheel, earning a fifth-place standing in the championship.

Christina will join the Cunningham brothers (Mitchell and Wade) at Brian Stewart Racing, recently signed Jonny Reid at Integra Motorsports, and second-year man Marc Williams of Alliance Motorsports in a five-way Kiwi force that is finding American shores quite favorable to their racing careers.

Ron Dixon is father of New Zealand IndyCar Series star and 2008 Indianapolis 500 champion Scott Dixon, and an Indy Lights Racing series spotter on race weekends.
Source: www.indyproracer.com/2008/06/christina-orr-d.html
Orr confident for TRS international result

---
Teenager Christina Orr, the only female TRS driver, is looking forward to improved results at the international rounds of the championship in early January.

Bad luck and bad weather have hindered the Whakatane 18-year-old's progress so far in the series, with an errant bolt working loose and putting paid to an otherwise excellent showing in round one at Pukekohe, and problems with her new race seat, which contributed to braking difficulties through the tight infield section at Ruapuna.

And when the third race at Ruapuna was cancelled due to atrocious weather conditions, her ambitions for the weekend ground to a halt.

Since then, Mark Petch Motorsport has worked closely with Christina to solve the seat troubles.

"The issues that I was having with the seat were really slowing me down," she admitted.

"But I'm pretty confident with the changes that have been made that I can go a lot faster. I'm looking forward to the internationals, and know that I will be able to post a much better result there."

The abandoned third race from round two will also be run over the January 5-7 weekend, making a total of four races for the Toyota Racing Series at the next Christchurch meeting.

Christina is currently in 12th place in the TRS championship points, after two rounds.
Source: www.markpetchmotorsport.co.nz/html/news_002.html
---
Christina Orr is hoping her team can come back from a disastrous start to the Toyota Racing Series at Pukekohe.

Zoom "We really shot ourselves in the foot, and I guess we need to be more careful with our preparation," the Bay of Plenty driver said this week. "The shock absorbers (used in practice) on our car were the old model and technically illegal."

They were replaced by the correct units for the race, but with no testing on them, the car's set-up was astray.

Mark Petch Motorsport is providing the car and its transportation to and from the circuits free, but the Orr family and their sponsors are paying to run the Tatuus single seater. The change to new shock absorbers was something they hadn't expected.

"Coming over the hill (at Pukekohe) you're flat and hooking sixth and the car wanted to turn left instead of right. I guess it knocked my confidence and ruined it for the rest of the weekend.''

Craig Russell, who ran the AutoMotion team in last season's TRS, is providing data acquisition and assessment services to the team this season, and the need to set up the car to suit the new shocks in the qualifying sessions hurt Orr's race results.

There's a lot of pressure to perform placed on Orr's young shoulders this season. Generally regarded as New Zealand's fastest female racing driver, she realises she needs to achieve results for her career to maintain momentum.

"When you see the way the top teams have things ironed out and you know this is the year you have to succeed, it's hard when you start to think you're not going to have the goods to do that,'' she said.
Source: msn.autotrader.co.nz/View/Article/Orr-out-to-redeem-poor-start/1638.aspx?Ne=145&N=4294967254&No=45
Heads I win, tales I lose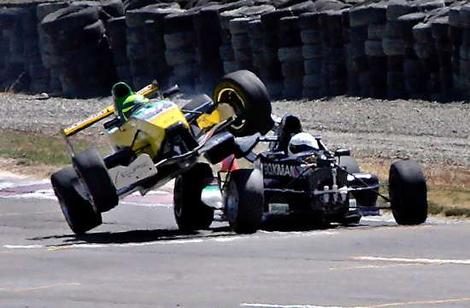 AMAZINGLY, the driver in the white helmet in this dramatic photograph out of New Zealand survived, the wheel of the airborne vehicle coming within centimetres of her head in what could have been a tragic end to the race.
But not only did 19-year-old Kiwi driver Christina Orr live to tell the tale, but she did so with a vengeance, later lashing out at the driver of the other vehicle, saying it was his bad driving that caused it all because he wasn't watching what he was doing. Which will send some shudders through motor sport in Australia, particularly around Camden, NSW, because the driver, 24-year-old Barton Mawer, hails from there.
"He can go back to Australia. He's not even in our championship," stormed Orr, who got caught up in the tangle of cars as she slowed down to enter the pits during lap six of the race at Manfeild in Feilding, on NZ's North Island.
But here's the sting. In what amounted to another tangle, one of the local reporters who covered the event got his wires crossed in his newspaper report yesterday, naming the offending driver not as Mawer, but as Melbourne-based Lucas Dumbrell, younger brother of V8 supercar star Paul Dumbrell. The only trouble was that, although Lucas, a 17-year-old Trinity Grammar student, was originally listed for the event, when the race was run, he was back in Australia, competing in Wakefield Park, in country NSW.
POOR Lucas Dumbrell still copped it though, the paper accusing him (instead of Mawer) of being totally to blame for the crash that left Orr badly shaken and the car with $20,000 worth of damage. "The Australian drove clean over the top of me," Orr was quoted as saying. "He was not watching what he was doing. Everyone else behind me knew I was coming into the pits. There was a white flag out for a slow car on the track. If he'd backed off, his rear wheel could have ended up in my cockpit." What really peeved Orr, though, was that the offending driver didn't even say sorry. Whether Mawer eventually does offer an apology remains to be seen but in the meantime, we reckon another one is pending — this time not to Orr but to the young Melbourne bloke who wasn't even there but got blamed for it all.
Source: www.theage.com.au/news/sport/heads-i-win-tales-i-lose/2007/02/20/1171733764168.html
2006
Whakatane teenager Christina Orr started karting at the age of six and moved up to circuit racing in the Formula First class while only 12 years old. She quickly became a front runner and still holds the Formula First lap record at Manfeild. After moving into Formula Fords at age 16, Christina became rookie of the year then went on to become the first and only woman to finish on the podium (top three) in the New Zealand history of Formula Ford (Pukekohe 2004). She then capped off a great season by taking victory in the Manfeild Winter Series.
Christina was a revelation last season by regularly running at the front end of a high quality field of cars which at times have numbered as many as 21. Her best result was at Round Seven (Taupo) where she finished the weekend fourth overall after qualifying third and backing it up with an outstanding second place in Race Two. Having demonstrated her ability to adapt quickly to new circuits, she has indicated her ability to fill regular top three placings.
2004 Toyota Racing Series Driver
2004 5th overall in NZ Championship
2003 Elite Academy of Sport Scholarship
2000 Formula Ford Rookie of the Year
1998 Formula First Steel Trophy Winner
* * *

---
WomenInRacing.org
©1996-2018 by of Gordon Clay