LATEST
Bio
Results
Schedule

Related Issue: Women Racers Directory, Women in Racing, Women Racers, More Women in Racing, Race Schedules, Notable Women
Contact: www.msspeed.com/ or E-Mail
Terri Popielarz will be racing on the USA Modified Circuit in 2006
I'm a girl, why should I worry about tires?
By Terri Popielarz—Race Car Driver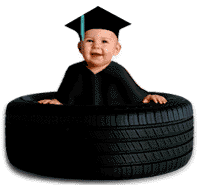 Before I became a race car driver, tires were the last thing in my mind when it came to driving my streetcar. I am a girl, girls don't need to know those things. Many of us overlook a tires importance because they just are not familiar with tires. Most people think that as long as they are round and have enough tread on them to keep air in them that they are ok.
Believe me, tires are the most important component of your car. They are what keep you in contact with the road. The racing term is "contact patch". This is the area of the tire that is touching the road at any time. The contact patch grips the road and helps you control your car. The are really three points of keeping a tire performing properly and keeping you safe. They are proper inflation, tread depth and buying a quality tire.
Did you know that over one half of all motorists don't check their tire pressure regularly? I always thought that that I was pretty good at keeping my car well maintained. I always looked at the tire sidewall and filled them up to what the tire listed as the maximum pressure allowed. I thought that the ride was a little bumpy but hey, they seemed to last along time! Did you know forty-eight percent of everyone does this? Fifty-five percent of us use an unreliable resource when we finally do check our tire pressure. As a racecar driver, I quickly learned that proper tire inflation is one of the most important factor of a keeping my racecar handling well and keeping me safe! How do you know how much air a tire needs? Look at your car owners manual or the placard on the car door. Your owners manual will specify the psi your tires need to perform properly. Your car manufacturer logged many miles on the track and road to come up with this value to keep your car performing at it peak and keeping you safe. Proper inflation effects handling, fuel economy, tire wear and braking. If your tires aren't properly inflated they will wear bad or wear out early and use more gas. The worse scenario is that your tire inflation isn't even from side to side and it pulls to the side during braking or your car becomes uncontrollable in wet or slick situations.
Tire quality is important! I thought that as long as the tire was round and properly balanced that was good enough for me. If I didn't have any money when it came time to replace my tires, I would get those four, for a hundred-dollar tires to last a few months until they wore out and I had more money. A tire is a tire right? Wrong! You bought that twenty thousand-dollar sports car and you are ruining its performance and handling by using that hundred-dollar set of tires. I'm not trying to say buy a tire because of the trendy brand name, buy a better tire because your life that is in jeopardy. I am saying buy the best quality tire you can at the best price. Remember, how much is your family's safety worth! Your speedometer might say your car can go 100 mph but those tires can't. With a tire that isn't right for your car it will effect you're the way your steering feels, handling, braking, tracking and worse yet, control of the car! How do you know what tire you should buy? Go back to your owners manual and see what they recommend and talk to you tire salesman. Select a tire that is designed for your car and how you use it. Some tires are designed for touring or highway travel while others are more performance minded.
Tread depth is the last point of keeping a tire performing properly and keeping you safe. What does the tire groove do? Racecar tires aren't grooved why should we worry about tread depth? Remember the contact patch? The tread design (grooves in the tires) channels water out of the area where your tire meets the road. If you have worn out tires, the water can't escape and your car will hydroplane. That's why racecars use grooved tires in the wet, control and safety. When I saw my tires starting to wear out I thought that I'd save money and buy two at a time, half the money right? This was definitely wrong! Uneven tread is was dangerous as having my tires improperly inflated or buying cheap tires! When you try to turn sharp with uneven tread on all four tires the car it will understeer or oversteer. Understeer is where you have no steering and the backend of the car takes control spinning you around like a pendulum. Oversteer is where the car has too much steering. The car acts like your snowplowing down the ski slope. Most of us have probably experience this condition when we brake hard on a slick road and the front end keeps pushing you right where you don't want to go!
A quality, properly inflated, tire with tread on your mini-van is as important in keeping yourself and family safe as that baby seat. Tires do matter!

Couple find that racing is tie that binds
By Paul Shepherd Star correspondent
Dave and Terri Popielarz might have different views on who has the upper hand in their head-to-head matchups at the Indianapolis Speedrome, but the husband and wife agree that auto racing is a major part of their lives.
Terri is a rookie driver in the USA Modified Series and races locally at Indianapolis Speedrome. The former pro jet skier, who in 1992 became the first woman to win a national jet ski race, began racing on four wheels about 7 years ago.
Dave, who moved to Brownsburg in 1992, is crew chief for Indy car driver Dario Franchitti, who placed sixth at this year's Indianapolis 500. Dave occasionally races at the grass-roots level.
So who would usually win? "I'd say we split it 50/50," Dave said. Terri had a slightly different take.
"When we first started doing it, I kicked his butt so bad," Terri said. "We used to drive separate trucks to the track. By the time we'd get home we weren't mad at each other anymore, but I usually beat him."
The couple, first met on a blind date while they were testing at Sebring, Fla., and married five years ago.
Terri spent time road racing sport cars and Formula Fords before moving to oval racing. When Dave's not traveling with the Andretti Green team, he's helping Terri at the track.
"I guess living in Indy you're pretty much expected to race on ovals," Terri said. "We really have fun doing it. A lot of times we get guys from the shop. Dario's even come to watch me race before. It's fun. Dave works in the shop all day, then we come home and work on my car all night. But we do that instead of watching TV. It's our hobby. I guess it's our life."
Terri is her own mechanic when Dave's on the road, but confesses she has her own "call a crew chief" on speed dial.
"It's hard (with Dave) being gone all the time racing, but I've learned to be the mechanic and work on the car by myself," said Terri, who will run at Indianapolis Raceway Park on July 29.
"I do setup, gear changes, all that stuff. My choice was learn how to do it myself or not race anymore. So I chose to learn how. It's actually a lot of fun and satisfying and gratifying being able to cross the line knowing that I did it myself."
Terri is 17th in the point standings as a rookie in the field of 52 cars.
The couple has had regular head-to-head matchups the past few years, racing in the Hornet Division at the Indianapolis Speedrome. Terri won two championships in the division in 2003, and Dave is the track record-holder.
"We were pretty fast," recalled Dave, who spoke via telephone from Fort Worth, Texas, where he was busy preparing Franchitti's car for last Saturday's Bombardier Learjet 500K.
"We'd end up running against each other inevitably and end up trading a little paint, or we'd run one of the other guys into the wall or something. She races hard, and I race hard."
They appreciate the sport and what it offers at the grass-roots level. Terri actively promotes cystic fibrosis awareness at her races.
"It's nice to be in grass-roots racing," Dave said. "It's a good alter-ego to the professional side. People who support professional racing, I wish they'd support the grass-roots stuff a little bit. . . . I think people would have a lot of fun if they went to local races."
Source: www.msspeed.com/stuff.htm
Residence: Indianapolis, Indiana
Grew up in Longmont, Colorado
Family: Husband Dave Popielarz - Dog's Trixie and Lucy
Hobbies: Racing, Racing, and more Racing.
Favorite Food: Hot Mexican Food and Chocolate!

Oval Racing Experience:
2006
USA Modified Series Most Improved Driver
USA Modified Series-13th overall out of 118 Drivers-
2005
USA Modified Series Rookie Season-12th overall out of 91 Drivers
USA Modified Woman of the Year
2004
Indianapolis Speedrome April-June Hornet Championship 2nd Place,
July-Sept Championship 4th Place
2 Dash Wins, 12 - Heat wins, 7 - Feature Wins
Indianapolis Speedrome Powder Puff Stock Track Record Holder
2003
Indianapolis Speedrome Carmel Sod Hornet Champion & Lady Hornet Champion
Road Racing Background
Women's Global GT Series, Skip Barber Formula Dodge
1998-1999, National SCCA, Michelin One Lap of America 2x,
Raced "Jet Ski's" professionally for 7 years & was the 1st woman to win a National Tour Event in the Pro Runabout Division, was a Sea-Doo Factory Racer
Source: www.msspeed.com/index.html
* * *

---
WomenInRacing.org | Contact Us
©1996-2023 by Gordon Clay