LATEST
Juliana finished 14th on Saturday and 8th on Sunday in the NASA Championships at Mid-Ohio last weekend (9/16-17/06). She is in10th of 35 drivers with the final race to be held 9/23-24/06 at Road America.
Interview
2006 Results
BIO
Photo Gallery
Race Experience/History
Schedule
JDC Motor Sports
, John Church, 8856 Woodhill Circle, Savage, MN 55378 Juliana Gonzalezor www.jdcmotorsports.com or E-Mail
Related Issue: Women Racers Directory, Women in Racing, Women Racers, More Women in Racing, Race Schedules, Notable Women

Snippets

---
At the Molson Grand Prix of Toronto July 7-9, on Saturday Juliana gridded 9th and finished 12th. On Sunday, she gridded 10th and finished 7th of 20 racers and was only 47 seconds behind Jr Hildebrand who took his 9th win in 10 races. If you remember, her goal after Cleveland was to finish this race in the top 10.

* * *

Juliana started the Grand Prix of Cleveland Cooper Formula Ford 2000 race at the back of the grid and ended in the middle doing some great passing over many drivers. She will be racing at the Molson Grand Prix of Toronto July 7-9 with Champ Car and is shooting for a top 10 finish.


Portland International

---
Fifteen year old Juliana Gonzalez from Columbia raced in the Cooper Tires Formula Ford 2000 race at Portland International Raecway June 17-18. She qualified 18th in a field of 27 and finished 16th in Saturday's race and 17th in Sunday's race, which ran 7 fewer laps because of several course yellows. The race finished under a red flag condition.Keep an eye out for this young women to come up through the ranks very quickly. Her eventual goal - to race in Formula 1.

---
GC: Where did the influence come from in your family to race?

Juliana: My brother started to race and I liked it very much so I decided to race. I started in go-karts when I was eleven.

GC: What advice would you give to other girls to compete against all of these men?

Juliana: It's very exciting to compete against all men and I'm the only girl and it's pretty good, it's very exciting.

GC: Which area of racing are you interested in in the long run?

Juliana: My goal is to get into Formula 1. That's my dream and I'm going to do it!


2006 Results (date/track, round/race, finish)

9/24 Road America
9/23 Road America
9/17 Mid-Ohio 12/2, 8
9/16 Mid-Ohio 11/1, 14
7/9 Toronto 10/2, 7
7/8 Toronto 9/1, 12
6/25 Cleveland 8/2, 15
6/24 Cleveland 7/1, 17
6/18 Portland 6/2, 18
6/17 Porland 5/1, 16
5/21 Mid Ohio 4/2 21
5/20 Mid Ohio 3/1, 7
5/13 Road Atlanta 2/2 25
5/12 Road Atlanta 1/1, 7
---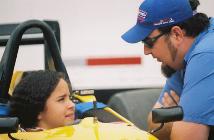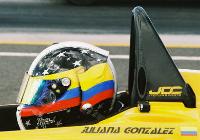 Name: Juliana Gonzalez Bermudez
Nationality: Colombian
Age: 15
Married Status: Single
Occupation: Student
Hobbies: swim, dance, go to the gym.
First Race: 2002 Karting in Cuernavaca.
Favorite Car: Lambo
Favorite Food: Macarroni and cheese, Starbucks caramel frapuccino.
Favorite Music: Reggaeton, electonic, salsa.
Favorite Movie: Behind enemies lines, Casanova
Favorite Website: www.hi5.com
Favorite Track: Autodromo Hermanos Rodriguez
Racing Heros: Ayrton Senna, Fernando Alonso.
Reason for Racing Cars: " I love speed and adrenaline"


Race Experience/History:
2002- Started in Karting.
2003- Karting shifter 125cc, and ICA.
2004- Shifter 80cc National champion.
2005- Russell Racing School Basic Course. (Infineon)
Russell Racing School Advanced Course (Infineon)
Formula Renault 1600 debut.
Pole and 1st place in Monterrey.
3rd place in San Luis Potosi Race 1.
3rd place in San Luis Potosi Race 2.
Shifter 80cc National champion,
5th place on the first year of 125cc shifter class.
2006- 2nd place karting 125cc class.


Photos: Cooper Tires Formula Ford 2000, Portland International Raceways, June 17-18, 2006. Gordon Clay

* * *

---
WomenInRacing.org
©1996-2023 by of Gordon Clay